Egypt: reflections from the author of "Down the Nile"
(Read article summary)
Rowing solo 120 miles down the Nile gave Rosemary Mahoney a unique perspective on the Egyptian character.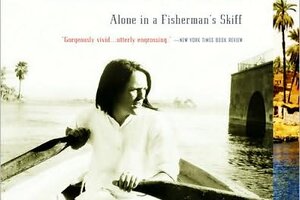 A few years ago, an American named Rosemary Mahoney dumbfounded Egyptians by rowing 120 miles down the world's grandest river by herself, traveling in a country where bold women aren't the norm. She told her story in 2007's "Down the Nile: Alone in a Fisherman's Skiff," which The Christian Science Monitor named one of the 10 best books of the year.
Our reviewer Marjorie Kehe praised Mahoney's "quick-silver intelligence, her sharp eyes, and her slightly astringent voice," saying she's "a woman who doesn't suffer fools gladly. Yet at the same time she is patient and generous enough to allow people and things to show her their best – and they frequently do."
Amid this week's events in Egypt, I asked Mahoney for insight into the people and politics of the ancient land that suddenly has the world's attention.
Q: What did you learn about the relationship between Egyptians and their government (and authority in general) during your trip?
As an independent traveler embarking on the somewhat unusual venture of rowing alone down the Nile, I had reason to meet and talk with a lot of ordinary Egyptians in the smaller cities and rural areas of the country – farmers and fishermen, shopkeepers and school kids. I spend a total of three months in Egypt and in that time I had the impression that the people of Egypt felt very distant from their own government and rather fearful of it.
The younger people I met, most of whom were unemployed, had spent their entire lives under Mubarak's martial law. They seemed both resigned to it and frustrated about the prospect of change in their country. Mubarak's government has never allowed public political discourse and certainly not public political opposition.
---