Thomas Jefferson's books – sought by researchers for decades – have been found
(Read article summary)
Seventy-four books from Thomas Jefferson's personal library have been discovered at Washington University.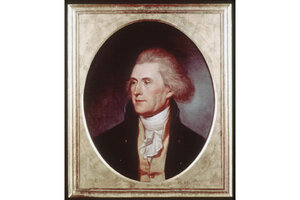 The Library of Congress
Book lovers received a fitting surprise on President's Day: news that a treasure trove of books belonging to our nation's most bibliophilic president had been found.
Washington University announced yesterday that 74 books representing 28 titles in its rare books collection were once part of Thomas Jefferson's personal library. The books had been donated to the college by the son-in-law of Jefferson's granddaughter early in the university's founding in the 1850s, university officials said. With that discovery, the university has been elevated to the third-largest collection of Jefferson's books, after the Library of Congress and the University of Virginia.
Those 74 books are just a fraction of the impressive library Jefferson amassed over his lifetime. Unbeknownst to many Americans, Jefferson was a fervent reader and a serious collector of books. "I cannot live without books," he once wrote to John Adams, confessing to a "canine appetite for reading," The New York Times reported.
5 best books to read on Washington's birthday
Jefferson had multiple book collections, among them 6,700 books he sold to the Library of Congress in 1815 and another collection, known as his retirement library, that reached 1,600 books by the time he died on July 4, 1826.
The books discovered in Washington University most likely belong to that final collection, the retirement library. The least known of Jefferson's collections, the retirement library leans heavily on classics rather than his typical political and legal tomes.
Jefferson's heirs reluctantly sold the retirement collection at auction in 1829 to pay off his debts, and researchers have been trying to track them down ever since.
---