Limits on library e-books stir controversy
(Read article summary)
No more than 26 checkouts per e-book? HarperCollins' new policy on e-books in libraries is creating unhappiness in the book world.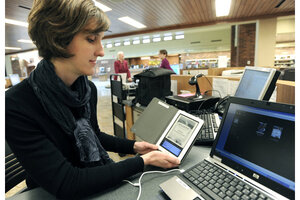 Emily Spatz/Argus Leader/AP
Library books get plenty of wear and tear. But do popular books really wear out after just a year?
That's the stated logic behind a new rule for e-books published by Harper Collins. As Library Journal reported, the publisher plans to allow each "copy" of a library e-book to circulate only 26 times before the license expires. (For popular titles, LJ noted, that would equal a year of use for libraries with a 2-week checkout, or 1.5 years for libraries with a 3-week window). The president of sales for Harper Collins told Library Journal the limit "was arrived at after considering a number of factors, including the average lifespan of a print book, and wear and tear on circulating copies."
A protest movement sprung up fast. There's a website, at least one small Facebook group, and a Twitter hashtag, #hcod, to follow the story and comment on it. Mega-popular Harper Collins author Neil Gaiman, asked in a tweet about the policy, called it "incredibly disappointing," noted Mediabistro. Another Twitter commenter compared it to book burning.
---