James Frey rewrites Jesus, irks the literary community
(Read article summary)
James Frey, once accused of fabricating a memoir, is back for more controversy with a revisionist history of Jesus.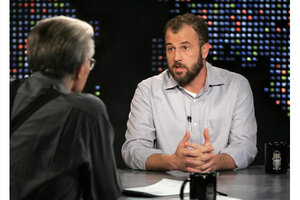 CNN
James Frey seems to have a knack for generating negative publicity. First there was the 2006 controversy – played out very publicly on "Oprah" – over his allegedly fabricated memoir "A Million Little Pieces." Now it's his new book "The Final Testament of the Holy Bible," a satire scheduled for release on April 22 (Good Friday) which portrays Jesus as a Bronx resident who does drugs and parties with prostitutes.
But so far any uproar over his book hasn't come from the religious right. On the contrary, it's the secular literary community who are taking offense – not at religious blasphemy but at what they see as a rather cheesy attempt by Frey to insert himself again in the headlines.
"I'm sure the religious right will go crazy," Frey said to the New York Post in an interview about the book.
Oh, really? asks Salon critic Laura Miller. "Who besides good ol' Bill Donohue at the Catholic League can possibly be counted on to take offense at such a stunt?" she wonders, pointing out that "there's already a long history of revisionist literary accounts of Jesus' life and social criticism disguised as fiction": everything from "The Last Temptation of Christ" by Nikos Kazantzakis (1951) to "Lamb: The Gospel According to Biff, Christ's Childhood Pal" by Christopher Moore (2001).
---