Nicholas Cage's comic book is found, but the thief is still at large
(Read article summary)
Los Angeles police are still looking for the thief who 10 years ago nabbed a valuable first-edition Superman comic book from actor Nicholas Cage.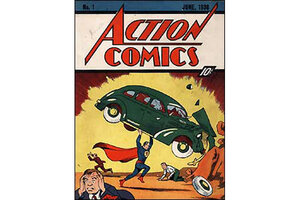 It's a job for the likes of Superman.
Los Angeles authorities are searching for the thief who stole an original copy of the valuable first Superman comic book more than a decade ago from actor Nicholas Cage. The comic was taken from Cage's Los Angeles home in 2000 and resurfaced last week in a storage locker in the San Fernando Valley after the contents of the locker were purchased in auction.
Action Comics No.1, first published in 1938, is the comic in which Superman first appeared. It cost a mere $0.10 in 1938. Today it could fetch as much as $1.5 million.
10 most frequently challenged library books of 2010
The comic is in possession of the LAPD as they try to track down the thief or thieves.
"We have it protected in a safe and it isn't going anywhere until we finish our investigation," Det. Donald Hrycyk told the Los Angeles Times.
Cage, who collects vintage comics and says he has a soft spot for the Man of Steel, was slated to play Superman in a Tim Burton movie in the '90s, around the time his first-edition Superman comic was stolen.
---