Greg Mortenson's "Three Cups of Tea" – a "beautiful story" but also "a lie"?
(Read article summary)
Greg Mortenson, higly esteemed author and philanthropic constructor of schools in Pakistan and Afghanistan, has had his integrity called into question by a "60 Minutes" report.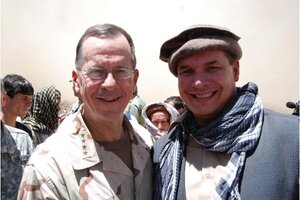 A 60 Minutes investigation charged that "Three Cups of Tea" author Greg Mortenson fabricated some of the accounts in his beloved bestseller and his charity may have mishandled donations.
The CBS report, aired Sunday evening, claimed several passages from "Three Cups of Tea," including the opening anecdote, were false. It also revealed that Mr. Mortenson's charity, Central Asia Institute (CAI), spends more for book promotion and publicity than it does actually building schools overseas.
Mortenson defended himself in his hometown Bozeman Chronicle newspaper, denying several allegations and explaining others. He also issued a statement in which he said, "I stand by the information conveyed in my book and by the value of CAI's work in empowering local communities to build and operate schools that have educated more than 60,000 students."
In "Three Cups of Tea," Mortenson opens with an account of getting lost while mountain climbing in rural Pakistan and stumbling upon the village of Korphe in 1993. According to the book, the residents of Korphe nursed Mortenson back to health and it was their kindness that inspired the author and philanthropist to build a school.
---