Nigel Slater: the best Brit you've never heard of
(Read article summary)
Nigel Slater – the celebrity cook (and yes, that's cook, not chef) – is Britain's best-kept secret soon to be shared with the United States.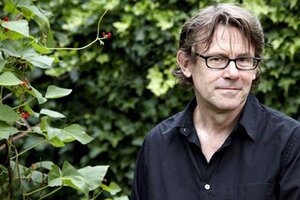 I want Nigel Slater to be knighted. He is hands down the best thing to come out of Britain since the Beatles. (Actually, Nigel Slater is about a million times better than the Beatles but you people seem inordinately fond of those boys from­ Liverpool – and they were knighted, or at least one of them was.)
Anyway, cue the uncomprehending stares because, at least if you're American, you probably have no idea who I'm talking about. Heathens, all of you!
Nigel Slater is who you'd get if you combined Alice Waters with Mark Bittman: a garden-to-table advocate whose goal in life is to make people love fresh produce and cooking because they are – gasp – fabulous and fun and do not have to be fussy in the slightest. Slater lauds fresh ingredients as the foundation for simple food without being Slow-Food militant.
By his own account, Slater is a cook who writes. (Emphasis on the word cook – not chef.) He has been the food columnist for the Observer for 18 years and is presenter of BBC1's "Simple Suppers." He is the author of seven fantastic books on food, basically none of which have been published in the United States (crime). But rejoice, humanity, Ten Speed Press is about to blow the lid off with the publication of "Tender," Slater's magnum opus.
The premise of "Tender: A Cook and His Vegetable Patch" is simple, and well summed up by the book's subtitle. The book is organized by vegetable (alphabetically) and offers notes, insights, recipes, and usage guides for each.
---