The woman accused of helping to kill Abraham Lincoln
(Read article summary)
Historian Kate Clifford Larson talks about Mary Surratt, the Washington D.C. landlady accused of plotting to kill Lincoln and profiled in new movie "The Conspirator."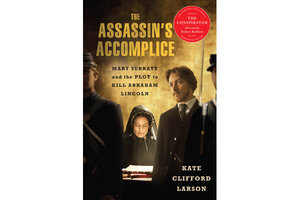 No single image fully represents the horror of the assassination of President Abraham Lincoln. But there is a photograph that hints at the magnitude of what happened next.
It shows four bodies hanging by long ropes from a gallows as a crowd of soldiers and others look on. Legs are bound, heads are covered, but the human forms remain achingly obvious.
All four stand accused of helping kill the president. One is a middle-aged woman, the first female ever put to death by the federal government.
Shakespeare quiz: Can you match the quote to the play?
Her name is Mary Surratt, a Washington D.C. landlady and Confederate sympathizer. She's virtually forgotten now, nearly as unknown as the entire elaborate conspiracy to kill Lincoln. But at the time, her name was on everyone's lips in both North and South, a woman said to be either devastatingly defamed or definitively evil.
A new movie called "The Conspirator" tells one version of her story, suggesting that she may have been innocent. Historian Kate Clifford Larson thought that was the case too, but the research that led to her 2008 book convinced her otherwise.
Now, her book, "The Assassin's Accomplice: Mary Surratt and the Plot to Kill Abraham Lincoln," has been reissued to tie in with the movie's release. Larson is speaking about Surratt on behalf of the filmmakers even though she disagrees with the movie's conclusion about Surratt's guilt.
---