Osama bin Laden, SEAL books hurtling down the publishing pipeline
(Read article summary)
Watch for the next book wave: anything about Osama bin Laden and the Navy SEALs.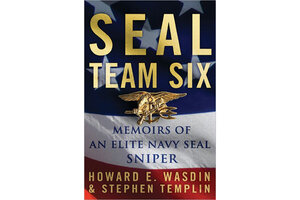 Before the ink even dried on the latest craze in publishing – the flurry of royal wedding books – publishers are scrambling to address another, very different one.
Yes, Osama bin Laden is in vogue.
At breakneck speed, publishers are cooking up a storm of bin Laden books they can rush to print fast: digital titles, essay collections, and insta-books.
They're also accelerating plans for existing bin Laden books in the pipeline. The one everyone's talking about? The incredible made-for-Hollywood, Jason Bourne-like daring do of the counterterrorism unit credited with killing bin Laden, SEAL Team Six.
"SEAL Team Six: Memoirs of an Elite Navy SEAL Sniper," by Howard Wasdin and Stephen Templin, was originally scheduled to be published May 24. Now St. Martin's Press, an imprint of Macmillan, is rushing publication, hoping to have it distributed next week.
---