What I do believe about "Three Cups of Tea"
(Read article summary)
Greg Mortenson might have lied about many things. But that doesn't change the essential truth of his book.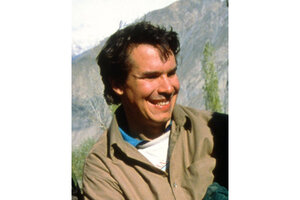 AP
"NO!!!" That was my first reaction to last month's headlines charging philanthropist and "Three Cups of Tea" author Greg Mortenson with deceit. "There must be an explanation."
But it didn't look good and Mortenson's silence since has not been encouraging. So this week, with a heavy heart, I finally downloaded and read Jon Krakauer's short work "Three Cups of Deceit: How Greg Mortenson, Humanitarian Hero, Lost His Way."
I was still kind of hoping against hope that I wouldn't find Krakauer's accusations convincing. After all, I was as moved as any of Mortenson's millions of other readers by his dream of building schools for children in remote corners of Pakistan and Afghanistan. Unfortunately, however, Krakauer's book pretty much bludgeons Mortenson. Even if there are explanations for some of the charges, the overall pattern of lying seems too pervasive to be easily explained away. To my regret, I found Krakauer's words to be quite powerful.
---