When it comes to sandwiches, she's the upper crust
(Read article summary)
"The Encyclopedia of Sandwiches" author Susan Russo does a tell-all interview over turkey on rye.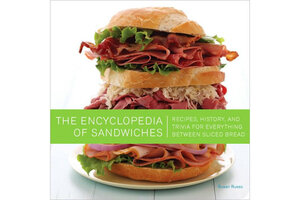 Tuna salad on rye with extra mustard. (Yes, mustard!) Canadian bacon, radicchio, and genetically modified sun-dried tomato. Or a simple grilled cheese on sourdough.
Whatever your favorite sandwich is, food writer Susan Russo has got a tale to tell.
In her new book The Encyclopedia of Sandwiches, the San Diego-based Russo takes a bite out of time and offers a slice of culinary history.
In an in-person interview over a turkey sandwich, Russo and I chewed the non-saturated fat about a food staple that's found a home everywhere from the kitchen counter to the ritziest restaurants on earth.

Q: What makes sandwiches so fascinating?

Sandwiches are one of the most democratic foods available. Anyone can make a sandwich: you can make it pretty much anywhere, you can eat it anywhere you like, at a table or literally on the run or over the kitchen sink. It's portable, it's inexpensive, it's filling, and there's something for everyone. They're endlessly adaptable. A sandwich is whatever you want it to be.

Q: Do sandwiches get enough respect?
---