Donald Trump will star in his own comic book
(Read article summary)
A comic-book bio will chronicle "the polarizing life and career of the high-profile tycoon, presidential aspirant and media bon vivant" Donald Trump.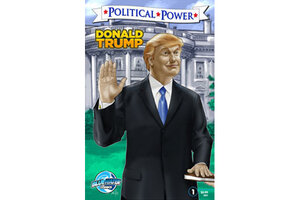 Donald Trump seems to be everywhere these days: New York, Atlantic City, Washington D.C. And as a Bostonian who tries to steer clear of real estate magnates and politicians alike, I was rather surprised – unsettled, really – to see him just up the road from me the other day in Portsmouth, N.H.
But for those who can't get enough of him, there's now more to come. This October Bluewater Productions will release "Political Power: Donald Trump," a comic-book biography of Trump.
"Trump may be egocentric, he may be a grandstander and a loudmouth, but there's no denying he has the attention of America," says Jerome Maida, the freelance journalist who will be penning the Trump story – chronicling Trump's "transition from real estate magnate who took over his successful father's company to 'The Donald,' the eponymous moniker that fuels tabloids, drives television ratings, and relishes the spotlight" – for the 32-page book.
---