Why this season's most popular baby-shower gift has an obscene title
(Read article summary)
Adam Mansbach's "Go the [expletive deleted] to Sleep" tickles the funny bones of parents – precisely because the struggle to get your child to sleep can be anything but a laughing matter.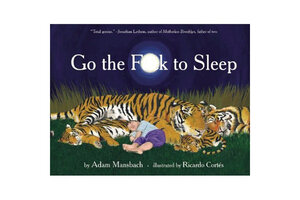 The experts are weighing in on how a 32-page humor book with an unprintable title made it to the top of the bestseller lists. Based on my own expert opinion, I'd like to announce that they're wrong.
"Go the [expletive deleted] to Sleep" by Adam Mansbach, featuring a cover that mimics a child's board book, hit #1 on Amazon earlier this week, and the movie rights have already been optioned. "Go the [expletive deleted] to Sleep" isn't even scheduled for publication until next month. But a PDF, showing the sendup of "go to sleep, my dear baby" rhymes overlaid with foulmouthed desperation, has gone viral.
The book's publishers describe it as "a bedtime book for parents who live in the real world, where a few snoozing kitties and cutesy rhymes don't always send a toddler sailing blissfully off to dreamland." Readers are promised that the book's "profane, affectionate, and radically honest ... verses [will] perfectly capture the familiar – and unspoken – tribulations of putting your little angel down for the night.
6 best children's books, as voted on by kids
The prevailing wisdom has it that the viral PDF hit enough reader funny bones to fuel the book's wild ride.
---