"Eat, Pray, Love" again – this time with Luca Spaghetti
(Read article summary)
Luca Spaghetti, a character from the mega-bestselling "Eat, Pray, Love," tells a story of his own.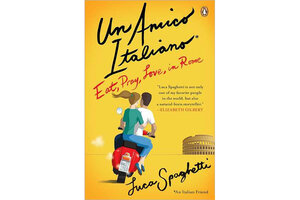 Talk about timing.
Just as Elizabeth Gilbert announced her final bow from the "Eat, Pray, Love" spotlight, Luca Spaghetti made his entrance, rescuing scores of Gilberites pining for more of the self-exploratory-chick-lit-travelogue genre Ms. Gilbert made so popular.
In "Un Amico Italiano: Eat, Pray, Love, in Rome," author Luca Spaghetti of EPL fame offers up a second helping of the "eat" in "Eat, Pray, Love." This is memoir at its giddy, self-indulgent best. Mr. Spaghetti (yes, that's his real name, as delightedly described by Gilbert in "Eat, Pray, Love") breathlessly recounts his story…. of being in Gilbert's story.
"It was a very strange feeling to read about myself in that book," he writes. "I didn't know if that was really me; I recognized myself – no question – but it felt strange, as if I were watching myself from outside."
Spaghetti's own story begins in September 2003 with an email he received from an American friend: "A friend from university is about to move to Rome for three months. She'll contact you. She's a writer and her name is Elizabeth Gilbert."
He traces the same narrative that Gilbert weaves in the Italian section of her book – the soccer games and scooter rides, the boozy meals, and American Thanksgiving – albeit with a bit less (okay, a lot less) grace than Gilbert (he is a tax accountant, after all). It's a fun, if slightly amateurish, replay of "Eat, Pray, Love."
---