No time for a flesh-and-blood book club? Try the Twitter variety
(Read article summary)
More book clubs go global with Twitter.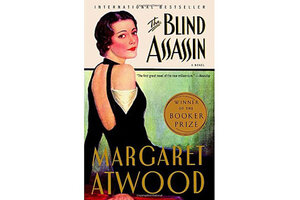 Now here's a book club even the football-watching, X-Box-playing men in your life could get behind.
No obscure titles (you vote on the book), no last-minute cram session (read it or not, it's up to you), no dressing up (pajamas are fine), no fussy wine and appetizers, no rarefied Lit 101 exegesis (in fact, you've got to keep it to 140 characters).
It's 1book140, the newest Twitter book club launched by Northeastern journalism professor Jeff Howe and the Atlantic. Readers around the globe, from India to Australia to Brazil, began tweeting about 1book140's first pick, Margaret Atwood's "The Blind Assassin," on June 1.
More than 2,000 people nominated almost 300 books for 1book140's first selection. Atwood's Booker prize-winning novel beat out Gary Shteyngart's "Super Sad True Love Story" and Jennifer Egan's "The Keep."
"Gosh, thanks Atlantic #1book140 voters!" Atwood tweeted after learning of the selection. "Would it be cheating if I joined in? Guess so…"
---