Erik Larson revisits the dark side: interview
(Read article summary)
Erik Larson talks about Nazis, American naiveté, anti-Semitism, and how he got the idea for "In the Garden of the Beasts," his recent book about life in Hitler's Germany.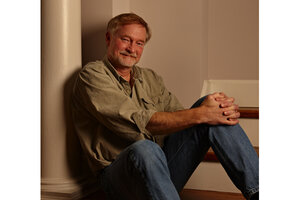 Maybe it's because it rains a lot in the Northwest. Whatever the reason, Seattle writer Erik Larson admits he can't stay away from darkness.
His 2003 true-crime masterpiece and huge bestseller, "The Devil in the White City," tracks a Chicago serial killer around the time of the stunning 1893 World's Fair. Galveston is devastated by a hurricane in Larson's "Isaac's Storm," while "Thunderstruck" is a second tale of murder.
This time around, Larson tackles the most universally detested villains of the 20th century: the Nazis.
Larson's latest, "In the Garden of Beasts," tells the story of an unlikely 1930s US ambassador to Germany, his sexy and ever-gallivanting young daughter, and their interactions with leaders whose inhumanity only slowly becomes crystal-clear.
The book (which we'll review soon) is yet another Larson page-turner, a vivid glimpse at how these two Americans reacted to the unfolding horror around them in Berlin and beyond.
In an interview this week, I asked Larson about the impetus for his book, the early charm of the Nazis, and their lessons for us today.
---