V.S. Naipaul feels superior to Jane Austen? Sorry, but he's just not
(Read article summary)
Is there any good reason for Naipaul to want a showdown he can't possibly win?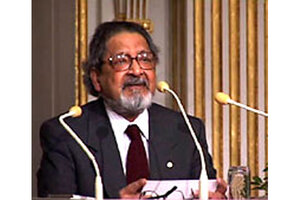 Is anyone else – like me – old enough to remember Bobby Riggs, Billie Jean King, and the Battle of the Sexes? I was only 16 when that famous (infamous?) 1973 tennis match took place, but I still remember the almost blinding rage that I felt for just a moment when I first heard the 55-year-old Riggs taunt that he was superior to even the best (and youngest) of female tennis players.
I had a flash of the same kind of feeling this week when I read V.S. Naipaul's boast during an interview at the Royal Geographic Society that no woman writer is his literary match. When he was asked – of course – about Jane Austen, he replied that he "couldn't possibly share her sentimental ambitions, her sentimental sense of the world."
Women writers, continued Sir Vidia, are "quite different." He said that he can "read a piece of writing and within a paragraph or two" he knows "whether it is by a woman or not." The "quite different" comment wouldn't necessarily have been an insult – except that he went on to add: "I think [women's writing] unequal to me."
And then, just as bad: "[I]nevitably for a woman, she is not a complete master of a house, so that comes over in her writing too."
Of course Naipaul's remarks have been getting plenty of blowback.
---