Amazon as publisher: What does it mean?
(Read article summary)
With Amazon at the table, says one publisher, "the price of playing poker just went up."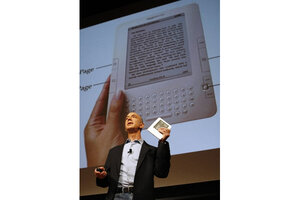 Mike Segar/Reuters
Ever since its inception, Amazon has brought seismic changes to the book world. Its e-commerce, mega book mall knocked traditional bricks-and-mortar booksellers off their feet. Its Kindle e-reader revolutionized the way Americans read – and buy – their books, with Amazon recently announcing it sells more e-books than print. And now, Amazon has signaled it will move into book publishing, leaving the major publishing houses holding their breath as they prepare to compete directly with the online behemoth.
Amazon recently announced that Laurence J. Kirshbaum, a literary agent and former publisher, will return to publishing to lead a new imprint for Amazon.
In an e-mail to agents sent last week, Jeff Belle, an Amazon executive, said Mr. Kirshbaum will be building the new publishing team.
20 smart nonfiction titles for summer reading
"Larry will be building out a publishing team in New York and will found new imprints under the Amazon Publishing umbrella, with a focus on acquiring the highest quality books in literary and commercial fiction, business and general nonfiction," Mr. Belle said in the e-mail, according to The New York Times.
---