Stieg Larsson's companion prepares for the book tour he never took
(Read article summary)
Eva Gabrielsson, longtime companion of "Millennium" author Larsson, will tour the US, promoting her memoir and raising awareness about her lawsuit.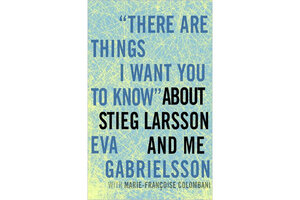 Like everyone else, Stieg Larsson's longtime companion Eva Gabrielsson, has watched with amazement as sales of his "Millennium" series crime thrillers – "The Girl With the Dragon Tattoo" and its sequels – have hit dizzying heights, reaching more than 17 million in the United States alone and 60 million worldwide. And now it's her turn.
Later this month, Gabrielsson will arrive in the US to begin a Larsson-size cross-country book tour – something that Larsson, who died in 2004 before the publication of his books, never had the chance to experience. Gabrielsson will be promoting her own book, "' 'There Are Things I Want You to Know' About Stieg Larsson and Me."
The Swedish architect and author will be holding book-signing events in major cities across the US following her book's June 21 publication by Seven Stories Press. Her tour will include New York; San Francisco; Seattle; and Washington, D.C. In New York, she will be interviewed by Gloria Steinem, the author and feminist activist (who says Garbrielsson's book is "not to be missed"), and in the nation's capital she will participate in a "literature evening" with NPR's Diane Rehm.
---