Kobo eReader Touch Edition could push e-reader prices low, low, low
(Read article summary)
Kobo's new eReader Touch Edition – the smallest, lightest, and cheapest touchscreen e-reader yet – is getting rave reviews.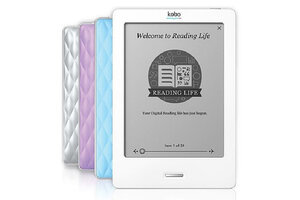 At last, budget-conscious bookies have an e-reader.
Kobo's e-Reader Touch Edition hit shelves June 10 and at $129.99, it's the cheapest touchscreen e-reader (besting Barnes & Noble's Nook by $10), and the smallest and lightest to boot.
Early reviews suggest the Canadian e-book retailer is vying for the No. 3 spot in e-readers, behind Amazon's Kindle and Barnes & Noble's Nook.
The paperback-sized eReader Touch (Kobo says it's designed to fit in a jeans pocket) has a clean, simple design – mostly screen with only one physical button. It uses e-ink, like a Kindle; can be read in bright light; and best of all, works like a touchscreen so readers can turn a page with the swipe of a finger.
The eReader Touch has 32 GB of storage, a micro-USB port for charging, and a battery life of up to one month, according to Kobo. It offers wireless access, but no 3G.
And at just 7.05 ounces (0.44 pounds), Kobo's new e-reader is 0.33 ounces lighter than the second-generation Nook and 1.45 ounces lighter than the third-generation Kindle, "a noticeable difference," writes PC World.
For now, Kobo's eReader Touch is available at Borders, Best Buy, and Walmart.
---
Follow Stories Like This
Get the Monitor stories you care about delivered to your inbox.