What is Pottermore?
(Read article summary)
J.K. Rowling is whipping up excitement about Pottermore, her mysterious new website that's said to be "amazing," "engaging," "breathtaking" – and completely secret until June 23.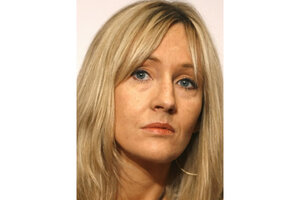 Seth Wenig/AP
Muggles everywhere are going mad.
"Harry Potter" author JK Rowling has launched a mysterious new website, Pottermore.com, but with only a pink background, the world "Pottermore," a pair of owls, and a promise of more "coming soon," she's keeping fans in the dark – and keeping them guessing. (A Rowling spokesperson has confirmed only that the site is "not a new book" and "not directly related" to the final "Potter" movie, "Harry Potter and the Deathly Hallows: Part 2," which will be released next month.)
A "Secret Street View" challenge guided fans to the site earlier this week, as 10 Potter fansites were given coordinates, each of which led to a single letter. Put together, the letters spelled out Pottermore.
Rowling is stirring the pot with a YouTube announcement page counting down the days, hours, minutes, and seconds to her June 23 announcement. It proclaims, "The owls are gathering. Find out why soon."
There's also a Pottermore Twitter account, @pottermore, that's already collected close to 38,000 followers.
No other details about the new project have yet been revealed. So what might the Pottermore website be?
---