PBS and JetBlue partner up to keep kids reading all summer long
(Read article summary)
"Soar with Reading" offers in-flight packages to entertain young travelers with reading games.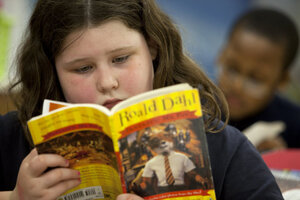 Melanie Stetson Freeman/CSM staff photographer
While running around outside keeps children physically active during the summer, it's important that they exercise their minds as well.
Studies show that if kids forego reading throughout the summer, they are vulnerable to the "summer slide," a decrease in learning and reading level over the summer months.
The National Summer Learning Association reported that students could lose from one to three months of learning – math and reading – during the summer
"We're on a mission to change that," said Lesli Rotenburg, senior vice president of children's media at PBS, who partnered with JetBlue Airways to launch Soar with Reading – Let Your Imagination Take Flight, an initiative to keep children engaged in reading and learning everywhere they go this summer.
"It's really just to get kids out there reading," said Gina Rauscher, manager of Corporate Social Responsibility for JetBlue. "Reading and education can happen anywhere."
The program, targeted at ages three to eight, provides children flying with JetBlue this summer with a free activity kit filled with reading games to entertain them during flight.
"You're just looking for something to do, so why not give them activity books…. keep families engaged when in an airplane," Rotenburg said.
On the program's website, SoarwithReading.com, parents can download the same activity kit, craft a summer reading list, and log minutes spent reading.
---