James Patterson moves into children's books
(Read article summary)
James Patterson launches, "Middle School, The Worst years of My Life," a book aimed at kids, on the same day as his latest adult release, "Now You See Her."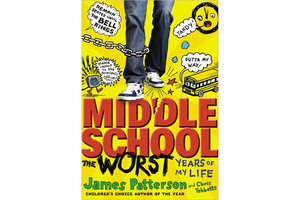 Last year he sold more books than Stephen King, Dan Brown, Stieg Larsson, and John Grisham combined. He's been called a publishing powerhouse, a media mogul, and a publishing-entertainment entrepreneur.
He's prolific novelist James Patterson and he's changing the definition of modern-day publishing with his wide reach.
Mr. Patterson started writing novels in the mid-1970s. Last year he expanded his company, James Patterson Entertainment, into comic books. Several of his books are being made into movies, including "Witch & Wizard," a young adult fantasy.
And now he's trying his hand at children's books again – with a clever twist. This week Patterson's publisher Little, Brown & Co. released two Patterson books on the same day, one for adults and one for kids.
They're hoping parents who come to purchase his new suspense novel, "Now You See Her," will try out his young readers' fiction, "Middle School, The Worst years of My Life."
---