In South Korea, all textbooks will be e-books by 2015
(Read article summary)
Speeding past the US, South Korea will be digitizing reading material in all public schools by 2015.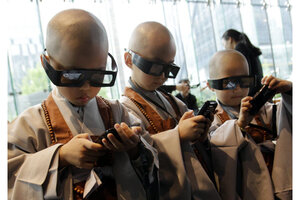 Lee Jin-man/AP
In South Korea, heavy backpacks laden with textbooks are becoming a thing of the past.
The Asian nation announced that it will replace paper textbooks with electronic tablets in all state-run (public) schools by 2015.
The move will allow students to download digital textbooks on a variety of platforms, including computers, smart phones, and tablets. South Korea's education ministry hasn't yet disclosed which e-tablet make or model it will purchase en masse to make the digital switch, but it has revealed the cost of buying tablets and digitizing material for all of the students in its state-run schools: $2.4 billion.
The digital conversion is part of a project to create "smart schools" across the country, according to South Korea's education ministry. The state says it plans to incorporate "smart" features such as video, animation, virtual reality, and hyperlinks, in its digital curriculum.
Korean students are already experimenting with digital learning. Since 2008, hundreds of elementary school students have been testing digital textbooks on tablet-like Fujitsu PCs and Samsung Galaxy Tabs, reported The Bookseller.
Besides alleviating backpack strains and reducing the market for highlighters, the move could have a huge impact on the educational publishing industry.
"South Korea's transition to a totally networked society has profound implications for the publishing industry," said James F. Larson, author of "The Telecommunications Revolution in Korea," according to the Bookseller.
---