Casey Anthony: What would Camus have made of her?
(Read article summary)
Casey Anthony's trial seems in some respects an eerie 21st-century update of the famous fictional trial in Camus classic "The Stranger."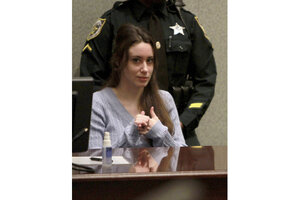 Joe Burbank/Orlando Sentinel/AP
They say that art imitates life, but sometimes, it's the other way around.
It's been more than half a century since Albert Camus wrote "The Stranger," but a story played out this summer in a Florida courtroom trial was chillingly reminiscent of the author and philosopher's 1942 existential novel in which a man standing trial for murder is found guilty largely because of his lack of remorse or guilt over a death he caused – and more importantly, his lack of grief and sorrow earlier in the novel when his own mother died.
Sound familiar?
The Casey Anthony trial was among the most-followed trials largely because of Ms. Anthony's actions after her 2-year-old daughter Caylee's disappearance and ultimately, death. Anthony partied, got a tattoo, hung out with friends, and went shopping and clubbing for a month after her daughter disappeared. Indeed, the prosecution's central argument in the trial was Anthony's lack of remorse over her daughter's death.
Camus's story also begins with a death followed by joviality.
It starts with a man attending his mother's funeral.
"Maman died today," the man, our narrator, explains. "Or yesterday maybe, I don't know. I got a telegram from the home: 'Mother deceased. Funeral tomorrow. Faithfully yours.' That doesn't mean anything. Maybe it was yesterday."
---