An open letter to "Harry Potter": all the nice things they're saying about you
(Read article summary)
"Harry Potter" film No. 8 is drawing rave reviews in the UK, while in America we wait and take a moment to remember what Harry has meant to us.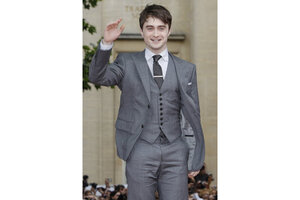 Joel Ryan/AP
Dear Harry Potter,
In all honesty, we haven't read all of your books, or seen all of your films, we weren't at the London premiere of "Harry Potter and the Deathly Hallows: Part 2" (though we heard Hermione looked gorgeous in a white ball gown), and we probably won't be first in line to see it here in the US.
But your ascent has been a marvel to witness. (British though your tale is, it really has a can-do, American, rags-to-riches rise feel to it). You've captivated people around the world with your enchanting story and encouraged an entire generation to read. (Even Oprah can't claim that). So we don't want to see you go – and we've heard a lot of people share our sentiment.
Congrats, by the way, on a fantastic premiere for the eighth movie. (We're not calling it the final one). We heard about the star-studded send-off in London's Trafalgar Square Thursday. We read about (okay, more like saw the pictures of) the celebs and the fancy dresses, and we heard about the huge screens and banners in Trafalgar Square. We're not really interested in that (although we would like to visit the nearby street that we heard was transformed into the magical shopping thoroughfare of Diagon Alley).
We're looking forward to July 15, when "Harry Potter and the Deathly Hallows: Part 2," opens in US theaters (in 3D to boot!). It'll be dark, we know, depicting your final confrontation with the forces of evil (aka Lord Voldemort).
---
Follow Stories Like This
Get the Monitor stories you care about delivered to your inbox.