Beverly Cleary will not write again
(Read article summary)
At 95, Beverly Cleary sits for an interview but says she will not be writing again.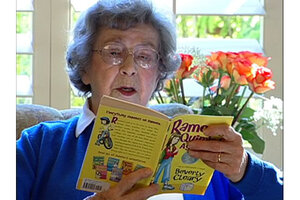 We might have expected the news. Beverly Cleary is 95, after all, we should be glad just that she's sitting for an interview. But it still struck my heart to see the beloved author say she doesn't plan to publish any more books.
"I hope children will be happy with the books I've written, and go on to be readers all of their lives," Cleary told The Atlantic magazine.
Cleary is famed as the creator of Ramona and Beezus and Henry Huggins and other heroes of her wonderful children's books. Her characters remain so live and real decades after their introduction that my own 5-year-old once demanded to know why Ramona got to walk alone to kindergarten, when he was forced to take my hand just to walk to the bus stop.
Some of Cleary's most satisfying works, though, are her lesser-known memoirs meant for adult readers, "A Girl From Yamhill" and "My Own Two Feet," which end just as Cleary starts her writing career. I had long hoped for a third volume. (Yes, she can engross readers for two books before she even gets to the piece of the story that most would have assumed is the interesting part.)
Interviewer Rachael Brown asked Cleary how she had balanced raising her own children, born after her career as an author began, while writing for thousands of others. Cleary answered that it wasn't easy.
"I loved my family and I loved my young career. A neighborhood woman felt that I needed help and offered to come babysit the children. I would write while she looked after them. They would draw pictures and slide them under my door. It worked out nicely," she told Brown.
---