Unfinished Jane Austen manuscript goes up for auction
(Read article summary)
The only surviving copy of Jane Austen's unfinished novel, 'The Watsons,' goes up for auction at Sotheby's on Thursday.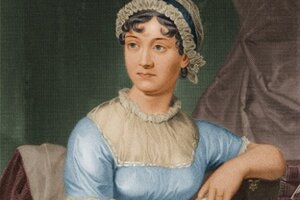 It is a truth universally acknowledged, that a bibliophile in possession of a good fortune, must be in want of a Jane Austen manuscript.
"The Watsons," Austen's unfinished, unpublished manuscript, will be auctioned Thursday by Sotheby's in London. It is expected to fetch between $330,000 and $490,000.
The manuscript, much of which is in Austen's handwriting, is one of her few manuscripts that survived and, as a work in progress, offers a rare glimpse inside Austen's mind as a writer.
(The only surviving manuscripts from Austen's completed novels are two chapters of "Persuasion," which are at the British Library, "Lady Susan," at The Morgan Library & Museum in New York, and "Sanditon," at King's College, Cambridge, England.)
'It's very much a working draft,' said Gabriel Heaton, a senior specialist in the books and manuscript department at Sotheby's, in an interview with The Wall Street Journal. 'You can see how her mind was moving—how she's refining and sharpening her text as she revises.'
---
Follow Stories Like This
Get the Monitor stories you care about delivered to your inbox.