Daniel Okrent, author of "Last Call," talks about Prohibition
(Read article summary)
Daniel Okrent, author of "Last Call: The Rise and Fall of Prohibition," talks about the booze ban that rattled a nation.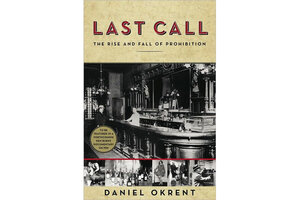 Congress approved it. All 48 states but Connecticut and Rhode Island ratified it. And by the time all was said – but not yet done – a nationwide ban on alcohol was written into the Constitution.
Nice try, but no success.
Prohibition, perhaps the nation's grandest experiment in social do-good-ism, was doomed to become an epic failure. Upstanding and not-so-upstanding citizens alike chose to break the law, inspiring criminal gangs to provide their liquor. Legal loopholes turned into gaping canyons. And dangerous back-alley alcohol took lives.
Outside of a few cultural touchstones like "The Great Gatsby" and "The Untouchables" (and the new HBO series "Boardwalk Empire"), we've largely forgotten about Prohibition. Journalist Daniel Okrent brings the era back to life in his book Last Call: The Rise and Fall of Prohibition, which came out in 2010. He describes how "a mighty alliance of moralists and progressives, suffragists and xenophobes" pushed for the alcohol ban and set the template for today's political activism.
"Last Call," which Monitor reviewer Alexander Nazaryan called "popular history at its best," is now out in paperback. I called Okrent to ask about the reaction to the book and Prohibition's lessons for today.

Q: What has been the reaction to the book?

A: The general reaction is, "I didn't know any of that stuff." And I can respond, "Neither did I."

Prohibition is a very important chapter, but it's not taught in the schools and sort of gets forgotten about. For most of us, it's based on what we saw in "The Untouchables," and we don't know anything more about it.
---