Kurt Vonnegut gets the boot in a Missouri school
(Read article summary)
A high school in Republic, Mo. bans two books, including Kurt Vonnegut's "Slaughterhouse Five," after a parent complains about material incompatible with the Bible.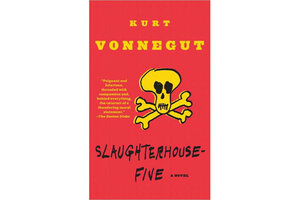 Somewhere, Kurt Vonnegut is laughing.
Republic High School in Republic, Mo., banned two books, including one of Vonnegut's, after a parent complained that the books advocate principles contrary to the Bible.
After a yearlong fight, the Republic district's school board voted unanimously Monday to ban Mr. Vonnegut's "Slaughterhouse Five," and Sarah Ockler's "Twenty Boy Summer," based on the complaints of Republic resident Wesley Scroggins, a professor of management at Missouri State University, and the father of several home-schooled children.
Vonnegut's work was part of an upper-level English course and will be removed from the curriculum, while Ms. Ockler's novel will be removed from the library.
One other book under review, "Speak," by Laurie Halsey Anderson, which includes a short, graphic description of a rape, was deemed instructional, and allowed to remain in the school.
"I congratulate them for doing what's right and removing the two books," Professor Scroggins told the Columbus, Indiana, Republic newspaper. "It's unfortunate they chose to keep the other book."
---