A new D.B Cooper book – and a new lead
(Read article summary)
Yesterday a new lead was announced in the infamous D.B Cooper case, a week before a new book about the Cooper case is scheduled for release. Coincidence?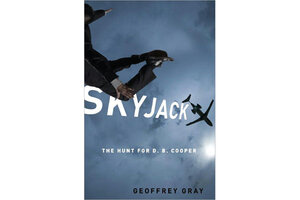 Call it coincidence or call it conspiracy (and some who obsessively follow the case are perhaps just crazy enough to do so), but Geoffrey Gray's new book "Skyjack," about the unsolved 1971 D.B. Cooper skyjacking case, will be be released on August 9, just a week after the FBI claimed to have a new lead on the notorious crime.
According to the Associated Press, the FBI was given a tip by a retired police officer who had been told that a man who died in a car crash in the Pacific Northwest could be D.B. Cooper. Cooper has not been seen or heard from since he captured headlines in 1971 by highjacking a plane, exchanging its passengers for cash, and then parachuting out over unsettled country in the Pacific Northwest. (Some of the ransom money, however, was found several years later near the Columbia River).
---