"Sarah's Key": Does the novel work as a film?
(Read article summary)
The bestselling novel about the Holocaust has been made into a French film and just been released in the US. But does it work as a movie?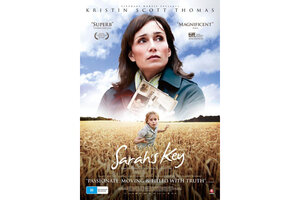 Tatiana de Rosnay's novel "Sarah's Key" has sold more than 3 million copies and lingered on The New York Times bestseller list for a total of 120 weeks. So it's safe to say that when a book that popular gets made into a movie, people start paying attention.
Weaving together the tales of Julia, a contemporary American journalist living with her family in Paris, and Sarah, a French Jewish girl who lived in Paris during the Holocaust, "Sarah's Key" is an intricate tale of tragedy and forgiveness. Sarah and her family are rounded up by the French authorities to be taken to Auschwitz. In an attempt to save her little brother, Sarah hides him in a locked cupboard.
Years later, Julia suspects that the family of her husband, Bertrand, own the same apartment that Sarah and her family were forced out of decades before, and she begins to unravel the dark secrets Bertrand's family has been keeping.
Now "Sarah's Key" has been made into a French film starring Kristen Scott Thomas. The film, which was released in the US on July 22, currently has a 70% rating on Rotten Tomatoes.
---