"The Whistleblower": a summer movie with a serious agenda
(Read article summary)
Kathryn Bolkovac wrote "The Whistleblower" about her encounter with sex trafficking in Bosnia. Will it work as a summer movie?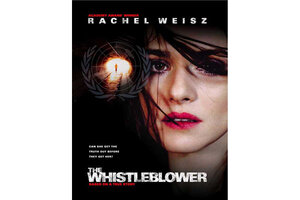 Following the trend of book-to-movie adaptations this summer, the movie version of Kathryn Bolkovac's nonfiction book "The Whistleblower" will be released on Friday, Aug. 5.
But unlike much summer fare at the cinema, Bolkovac's book treats a very serious subject. Originally a policewoman working in Nebraska, Bolkovac signed up to be a UN peacekeeper in post-war Bosnia. Working for the contracting company DynCorp, Bolkovac gradually came to realize that some of her fellow peacekeepers were supporting the very things that they were sent to Bosnia to stop – specifically sex trafficking and underage prostitution.
"The Whistleblower" tells the story of what happened to Bolkovac in Bosnia – leading up the moment when she began to fear for her life.
In an interview with the Monitor, Bolkovac says that she was intrigued by the chance to work in Bosnia, partly because of her Croatian heritage. But she even years of police work left her ill-prepared for some of what she discovered there. As soon as she began training at DynCorp, it became "evident that at least one person in [her] group was familiar with the use of [underage] women – 12-to-15-year-olds, children – for sex [in] Bosnia." The problem only became more obvious once she arrived in Bosnia.
---