Jackie Kennedy interviews and transcript to be released
(Read article summary)
Sealed since 1964, eight and a half hours of interviews with Jackie Kennedy are set to be released in September – and are rumored to be full of surprises.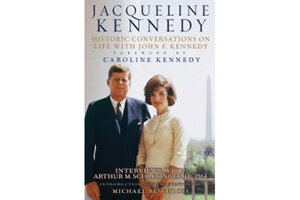 Jackie Kennedy famously refused to talk about her late husband or his assassination publicly after his death.
However, according to publisher Hyperion Books, she did sit down with historian Arthur Schlesinger in 1964 to talk about life with JFK, her perspective on the former president, and her thoughts about his death. The resulting eight and a half hours of recordings were sealed, on her request, not to be opened until 50 years after her death.
Caroline Kennedy – Jackie and JFK's daughter – has now given permission for the tapes to be released this year, only 17 years after her mother's death.
"Jacqueline Kennedy: Historic Conversations on Life with John F. Kennedy" by Caroline Kennedy and Michael Beschloss will be released September 13, to coincide with the 50th anniversary of JFK's presidency. It will include CD copies of the taped interviews, a transcript of the interviews, and an introduction and annotations by presidential historian Michael Beschloss.
According to Hyperion Books, the tapes give insight into JFK and his opinions, especially on his two brothers and other world leaders, and into the people surrounding JFK, such as Jackie and Lyndon B Johnson. Of course, as the tapes have not yet been released to the public, speculation abounds as to what else could be on them.
---