E-textbooks may not be the answer after all
(Read article summary)
While e-textbooks may be cheaper and easier to carry around, some are beginning to wonder if they're as effective in teaching students to retain information.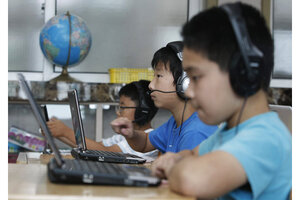 Ahn Young-joon/AP
As a grade-schooler, one thing I loved about the first day of school was getting our textbooks.
Along with the thick, substantial tomes, Mrs. Moon doled out stern warnings about losing or abusing our textbooks. I would flip through them immediately, as if they were the latest fashion magazine, previewing what we would be studying that school year, lingering on pretty pictures or interesting graphics. At home, my dad would help us cut brown-paper grocery bags to cover our book jackets, and once the text was snugly encased in its protective coat, out came the markers and stickers.
In fifth and sixth grade it was little sketches, in seventh it was intricate doodles that would take months to complete. In eighth, I remember sitting in French class with my friend Isabella (her French name) and covering our book jackets with tiny-lettered snippets of songs and poems. As for reading, I remember sitting at the kitchen table for hours, absorbed in the many pages we were required to read for history. And later, for research papers, I would blanket the desk with books opened to various pages, consulting each for a particular passage as I tapped away on the word processor.
Now, schools across the country (and the world, as we discussed in this earlier post) want to do away with dead-tree textbooks and replace them with digital editions. In Massachusetts, a private high school has already removed all books from its library. Students there now read from computers and Kindles instead. In Florida, the state legislature passed a bill mandating the state's schools to replace all paper textbooks with digital editions by 2016. At a conference last year in Austin, Texas Gov. Rick Perry argued that printed textbooks should be abolished. "I don't see any reason in the world why we need to have textbooks in Texas in the next four years," he said. And in Augusta, Maine, some schools are planning to give iPads out - to kindergartners.
---