Philip Levine: the "proletariat poet"
(Read article summary)
Philip Levine, a former Detroit factory worker and one of the most highly rated writers of his generation, is the new US Poet Laureate.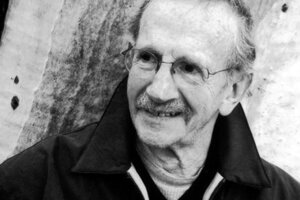 The Library of Congress may have given Americans a much-needed hero when it named Philip Levine the United States Poet Laureate earlier this week. Levine's working-class background and impressive accolades – including the Pulitzer Prize – make him the perfect role model both for struggling writers and for millions of Americans who wonder if the whole world is spinning out of control, taking their money and dreams along with it.
Levine's future probably seemed just as uncertain when he was growing up in Detroit in the 1930s and 40s. As the son of Russian immigrants, Levine learned about anti-Semitism at a young age, and after graduating from high school, Levine, like most of his peers, found limited career opportunities. So he followed the conventional route – working several grueling factory jobs while pursuing a degree at Wayne State. He also wrote and read poetry in his free time.
What Levine experienced at the Chevrolet Gear and Axle factory and Detroit Transmission, among others, was far from the life he wanted. The jobs were demanding, the pay was low, and the conditions were unhealthy. The injustices Levine saw, and the ways that people survived their circumstances, affected his perspective and values deeply.
---