Steve Jobs biography release date pushed up
(Read article summary)
Rumors abound as to the possible reason behind the earlier-than-expected release date of the new Steve Jobs biography.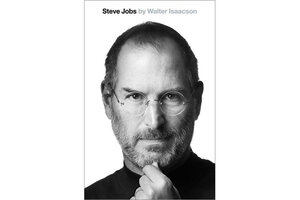 To most of us, Steve Jobs, Apple CEO, seems a bit like Batman. He pops up every once in a while, makes exciting announcements about new iPhones or iPads, and then vanishes for weeks on end.
But come November we'll have a chance to see the man behind the cape. According to The New York Times, Simon & Schuster has just moved up the release date of "Steve Jobs: A Biography" by biographer and former Time magazine editor Walter Isaacson from March 2012 to Nov. 21, 2011.
A 2005 attempt at a Steve Jobs biography ended with the publisher, Wiley & Sons, being banned from Apple stores. However, this new biography has been authorized by Jobs and will likely face much less controversy.
Isaacson has apparently enjoyed remarkable access to Jobs. According to the Times, the book is based on more than 40 interviews with Jobs himself and interviews with more than 100 people close to Jobs. Jobs himself is reported to have "asked for no control over what was written nor even the right to read it before it was published."
---
Follow Stories Like This
Get the Monitor stories you care about delivered to your inbox.