Should six-year-olds be dieting?
(Read article summary)
"Maggie Goes on a Diet" - a glorified tale of weight loss aimed at young girls - is stirring a storm of criticism.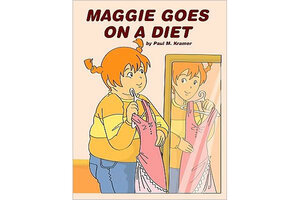 Add the children's book aisle to the list of places you'll want to check your child's exposure.

As if kids weren't already growing up too fast – heard of pre-teen push-up bras and pint-size makeup kits? – now there's a book that'll help your six-year-old go on a diet.
"Maggie Goes on a Diet," is a children's book that will hit shelves this October. Barnes & Noble's website says the book is for young readers 6 to 12; Amazon's site says ages 4 to 8.
The book is written and self-published by Hawaii-based author Paul Kramer, who has said he writes about issues kids deal with today. In 2010, Mr. Kramer wrote about bullying in "Bullies Beware," and tried to help kids deal with bed-wetting and divorce in "Do Not Dread Wetting the Bed," and, "Divorce Stinks," both due out this fall.
According to the book's blurb, "Maggie Goes on a Diet," tells the story of 14-year-old Maggie, who "goes on a diet and is transformed from being extremely overweight and insecure to a normal sized girl who becomes the school soccer star. Through time, exercise and hard work, Maggie becomes more and more confident and develops a positive self image."
Although the book has not yet hit shelves, its cover alone is so perturbing, it is, writes The Guardian's Laura Barnett, one we can excuse ourselves for judging the book by.
It shows a very pudgy, pigtailed girl wistfully holding a pink dress half her size and gazing into a mirror at a much slimmer version of herself, perhaps envisioning the day she can squeeze herself into that tiny pink dress.
---