What kind of books do they sell in your neighborhood?
(Read article summary)
When Seattle's Elliott Bay Book Co. changed neighborhoods, it also tweaked its stock.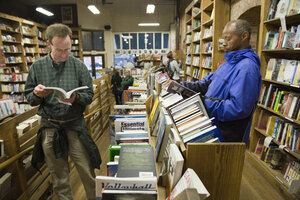 Mary Knox Merrill/CSM staff/file
Here's an interesting algorithm for the e-book programmers: How do you translate surroundings into sales? Can an online "neighborhood" affect the books readers buy?
I'm wondering that after writing about the success of Seattle's showcase bookstore, The Elliott Bay Book Co., which moved last year from its longtime home in Pioneer Square to a newly renovated building in the hip Capitol Hill neighborhood. Plenty of fans thought there was no way bookstore owner Peter Aaron could transplant the soul of the bookstore into a new location. (I admit I was among the doubters, having seen the failure of my beloved Cody's Books after it moved its flagship store in Berkeley. But instead, Aaron told me, the bookstore thrived in its new home. Sales shot up. Interestingly, though, they weren't always the same sales. For the first time in ages, he started stocking Agatha Christie mysteries on the shelves.
Why? His new neighborhood was perceived as safer than the old one, with more convenient parking. Senior citizens (evidently prime Christie fans) had returned to shop. Capitol Hill also has a longtime status as a gay-friendly neighborhood, and the store's section of lesbian-gay-bisexual-transsexual books thrived.
---