Cheney's memoir: few apologies, some evasion, and critical words for Condi Rice
(Read article summary)
An early review of Cheney's "In My Time" suggests that readers of the memoir will react more with frustration than with anger.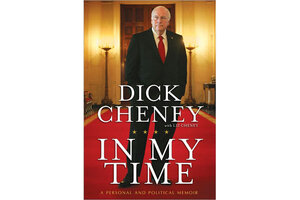 Usually, vice presidential memoirs are greeted with all the fanfare of a PBS telethon, but politicos can't wait to get their hands on Dick Cheney's "In My Time" – reflecting his position as perhaps the most powerful vice president in American history.
Cheney himself promised that the book, written with his daughter Liz, which will be released Aug. 30, "would have heads exploding all over Washington," in an interview with NBC's "Dateline." But if they do, says New York Times book critic Michiko Kakutani, who obtained an early copy of the book, it will be out of "frustration."
"In My Time," Kakutani writes in her review today, wastes no time with regrets. The memoir reflects Cheney's hard-line views on national security, "hopping and skipping over awkward subjects with loudly voiced assertions" to deliver "a book that is often so lacking in detail that it feels like a blurred photograph."
---
Follow Stories Like This
Get the Monitor stories you care about delivered to your inbox.