Cheney's memoir: heads really did explode
(Read article summary)
Critics – including former Secretary of State Colin Powell – fulminate over Dick Cheney's memoir.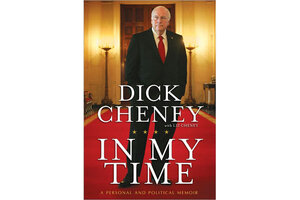 He promised exploding heads, and explode they did.
Dick Cheney's anticipated book, "In My Time: A Personal and Political Memoir," hit bookstores today and – no surprise – like the man himself, it's already creating a stir.
The 46th vice president spends the bulk of the book, co-written with his daughter, Liz Cheney, defending his controversial policies and practices, promising more than once that he has no regrets and would repeat his actions "in a heartbeat."
Among those actions are his support of waterboarding, which he calls "tough negotiations," and his support for the Iraq war and for military actions in Syria.
He also makes no qualms about breaking ranks with former administration members Condoleeza Rice, George Tenet, and Colin Powell, whom he said undermined the president when he expressed doubts about the Iraq war.
Today, Powell struck back. Former Secretary of State Powell said on CBS's "Face the Nation" that many disclosures in Cheney's book seemed to be "cheap shots that he's taking at me and other members of the administration who served to the best of our ability for President Bush."
---