As an American Muslim, I am disgusted by the 9/11 coloring book
(Read article summary)
The "We Shall Never Forget 9/11" coloring book is part of a Muslim-bashing, Quran-burning, mosque-opposing culture that's been brewing in recent years.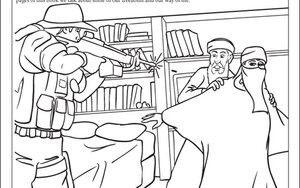 Ever since the printing press was invented, books have often been a source of controversy.
But coloring books? Really? A St. Louis coloring book publisher is sparking outrage with a new children's coloring book that depicts scenes from 9/11 and the killing of Osama bin Laden.
"We Shall Never Forget 9/11: The Kids' Book of Freedom," was just released by Wayne Bell, publisher of Really Big Coloring Books Inc. in St. Louis. It begins with big graphic black-and-white drawings of bin Laden plotting the 9/11 attacks, then shows the burning towers, the hunt for bin Laden, and ends with a Navy SEAL shooting bin Laden as he hides behind a woman in Islamic garb.
The accompanying text reads: "Being the elusive character that he was, and after hiding out with his terrorist buddies in Pakistan and Afghanistan, American soldiers finally locate the terrorist leader Osama bin Laden." It continues, "Children, the truth is, these terrorist acts were done by freedom-hating radical Islamic Muslim extremists. These crazy people hate the American way of life because we are FREE and our society is FREE."
According to the publisher, the book's initial print run of 10,000 copies has already sold out.
As an American, I find that incredibly disturbing. And as an American Muslim, I find the coloring book disgusting.
As we approach the tenth anniversary of 9/11, Muslim Americans are mourning, too. Muslims were among those killed in the attacks and Muslims were among the first responders who risked their own lives to save others. In spite of what coloring books like "We Shall Never Forget 9/11" encourage one to believe, most of us are proud to be contributing, tax-paying, law-abiding, freedom-loving members of a nation we love.
---