The East Coast earthquake that awakened Jim Crow
(Read article summary)
Post-Civil War Charleston, S.C., was hammered by fire, hurricanes, a tense racial situation – and a 7.3-magnitude earthquake – 125 years ago this week.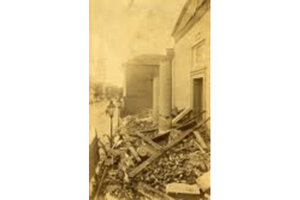 Photo courtesy of Charleston County Public Library
Check a map of earthquake hot spots in the continental United States and you'll see plenty of bright red danger zones: in the West, around the southeast corner of Missouri, and in one small section of the East Coast.
No, not Virginia, where a mid-sized quake just rattled millions. It's in South Carolina, where a quake estimated at magnitude 7.3 struck 125 years ago this week, killing dozens and ravaging the port city of Charleston.
In their new book Upheaval in Charleston: Earthquake and Murder on the Eve of Jim Crow, Susan Millar Williams and Stephen G. Hoffius explore the aftermath of the destruction and its unhappy effects on relations between the races. I asked them to describe how history changed.

Q: What was Charleston like at that time, barely 20 years after the end of the Civil War, which had begun just outside town at Ft. Sumter?

Hoffius: Charleston was hammered by the war. There were regular bombings of the city from James Island, where the Northern forces were, and there was a lot of ruin all through the city. Then the city and state were bankrupted afterward. They had difficulty recovering. Things were kind of getting on their feet but just barely.

Q: What was the racial situation like?

Hoffius: The city was 60 percent black and 40 percent white, a level that caused a lot of fear in white people.

Q: The quake came on top of another disaster, correct?

Hoffius: The city had been hit by a hurricane in 1885 that really flattened much of the city. They were just in the midst of making repairs in 1886, trying to recover from that disaster, when an even bigger one happened.

Q: What did the quake do?

Williams: Almost every building in the city was damaged. It was harder on masonry buildings where the rich lived than on the frame buildings where poorer people lived.
---