Authors take aim at Google Books with a lawsuit against five US universities
(Read article summary)
An international group of writers are suing five American universities for copyright infringement – and sending a warning to Google Books.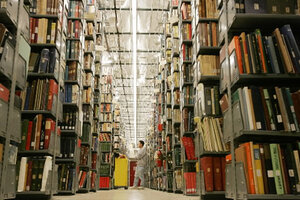 Mandi Wright/Detroit Free Press/AP
One party is calling it "one of the largest copyright infringements in history." The other says its "a lawful activity and important work for scholarship."
A group of authors and writers' groups around the world are suing five American universities for copyright infringement for creating online libraries comprised of millions of books scanned by Google.
Observers are calling the fight a proxy battle in the long-running court battle between Google and publishers, the outcome of which could foretell Google's fate in the matter.
The Authors Guild, the Australian Society of Authors, the Union Des Ecrivaines et des Ecraivains Quebecois, and eight individual authors – British novelist Fay Weldon, Pulitzer-winning American biographer T.J. Stiles, children's author Pat Cummings, poet Andre Roy, Shakespeare scholar James Shapiro, and novelists Angelo Loukakis, Roxana Robinson, and Daniele Simpson – have filed suit against the universities of California, Michigan, Wisconsin, Indiana, and Cornell.
---