'Rogue': Is Sarah Palin book too sleazy?
(Read article summary)
Joe McGinniss's Sarah Palin book, 'Rogue,' isn't even out till next week but the flaming headlines are already in place.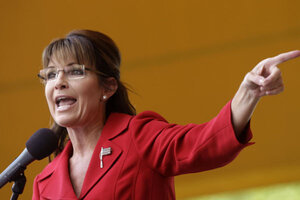 Stephan Savoia/AP
On the Today Show this morning, author Joe McGinniss called Sarah Palin "a phenomenon." He was referring to her political trajectory, but he could have meant the outsized attention she generates.
McGinniss should know. His dishy investigation into Palin, "Rogue," has been creating controversy and conversation a-plenty, and it's not even out yet.
The Daily Beast has the book's juiciest leaks – namely, that before she was married Sarah had a sexual encounter with a future NBA basketball star (substantiated-ish); that she had an affair with her husband's business partner (denied by all involved); and that in her youth she used both cocaine and marijuana (unclear).
Incidentally, The National Enquirer covered pretty much the same ground.
For its part, The New York Times was not impressed. Among other things, reviewer Janet Maslin says most of "Rogue" is "dated, petty and easily available to anyone with Internet access."
---