'Heaven Is For Real' remains a hit as its author addresses critics
(Read article summary)
Pastor Todd Burpo, author of 'Heaven Is For Real' – the story of what he says was his son's trip to heaven – stands by his book in a new interview to be shown next week.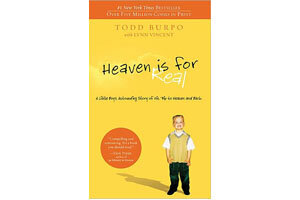 "Heaven Is For Real," written by Todd Burpo with Lynn Vincent, has been a runaway best-seller since it was first published and its sales show no sign of ebbing. It is currently ranks at number one on the New York Times paperback bestseller list.
The book tells the story of Burpo's son Colton, who was rushed into emergency surgery when he was 4 for a burst appendix. Over the next months and years, Colton told his parents that he had gone to heaven while he was unconscious and described seeing Jesus, John the Baptist, his great-grandfather, and his younger sister who died in a miscarriage – something his parents say they never told him about.
"Heaven Is For Real" has faced skepticism, and next week, an hour-long program featuring interviews with Burpo and his family will play exclusively at Lifetree Café locations. Lifetree Cafés are "conversation cafes," according to their website, located around the country where religious and other issues are discussed.
During the program, Burpo, who is a pastor and runs a garage door company with his wife, addresses nay-sayers.
"As a pastor and as a dad, I want my son to know I tell the truth," he says during the interview. "He can read the book. He knows if I exaggerated or if I didn't. My son is forever going to believe that I'm an honest person or I'm a liar by what I wrote in that book, because he can read."
---
Follow Stories Like This
Get the Monitor stories you care about delivered to your inbox.