'Moneyball': The movie may be great – but does it do justice to the book?
(Read article summary)
Like 'The Blind Side' – another Michael Lewis book turned into a movie – 'Moneyball' is complex. Did Hollywood capture it?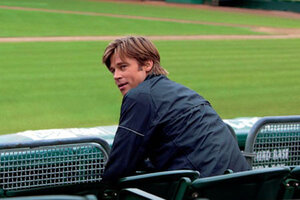 With its premiere today, the movie version of "Moneyball" – based on the Michael Lewis book about the changing world of professional baseball – seems poised for success, with good reviews coming in from almost every direction.
But does the movie really do justice to the book?
"Moneyball" garnered a huge following when it was published in 2003 with its story of how general manager for the Oakland A's Billy Beane used new ways of analyzing data. Beane had a limited budget for Oakland, so he couldn't go the traditional route of using big money to buy expensive players. Instead, he looked at criteria like on-base percentages, or how often a batter gets to base barring a fielding error, fielder's obstruction, and other stats.
For baseball, it was a new way of thinking, and it prompted criticism from some old-guard members of the sport at the time.
Some fans of the book worried that when "Moneyball" went to the big screen it would lose its genuine engagement with baseball. And at least one movie critic is already saying that it has. Peter Hartlaub, a pop culture critic for the San Francisco Chronicle, says the movie adaptation loses many of the book's complexities. "The big-screen adaptation of Michael Lewis' engaging 2003 book is also filled with compromises," Hartlaub writes. "Someone crammed 'Major League'-style sports cliches into a more nuanced story about baseball and progress – and then tried to fit a Brad Pitt star vehicle inside of that."
---
Follow Stories Like This
Get the Monitor stories you care about delivered to your inbox.