Is Amazon about to unveil its Kindle tablet?
(Read article summary)
Amazon is offering no details, but a Wednesday press conference could finally confirm the existence of a Kindle tablet device.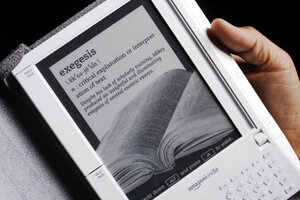 ZUMA Press/Newscom
Various media outlets got a mysterious invitation on Friday: an announcement that Amazon is holding a press conference on Wednesday, with no further details.
And to many, its purpose is a foregone conclusion: Newspapers and websites are assuming that the Kindle tablet – the device that could provide the first serious competition to the iPad – will be officially announced. Headlines along the lines of: "Amazon to announce tablet Wednesday" and "Amazon due to change the tablet world on Wednesday" are already popping up. And those who parse the business world are confident. "Wednesday is tablet day," BGC partners analyst Colin Gillis told Reuters in an article.
Of course, Amazon has yet to even confirm the existence of a tablet made by their company. Nevertheless, more and more details seem to be emerging: besides the clues that the tablet would have a nine-inch screen and run on a Google Android platform, a blogger for the website TechCrunch says he's confirmed that the gadget will cost $250.
---