Kindle Fire: Amazon tablet unveiled
(Read article summary)
Kindle Fire: Amazon's much-anticipated tablet device – the $199 Kindle Fire – will be a formidable competitor in the tablet wars.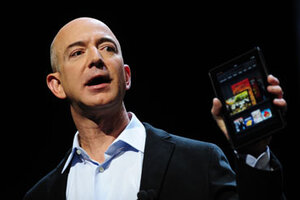 Emmanuel Dunand/AFP/Getty Images/Newscom
In a head-on challenge to Apple's iPad, Amazon's Jeff Bezos launched a $199 tablet, along with a bevy of other products, in a hotly anticipated Wednesday morning press conference in New York.
The Kindle Fire is poised to be a formidable competitor in the sizzling hot tablet wars. Compared to the iPad, which starts at $499, this device sells for less than half the price of the cheapest iPads.
The 14.6-ounce Fire is a transformed version of the Kindle e-book reader: It has a 7-inch color touchscreen, runs on Google's Android operating system, has a dual core processor, offers Wi-Fi connectivity (but no 3G). It also lacks a camera, microphone, GPS, and comes with only 8 GB of storage.
But that's not the point. The Kindle Fire isn't about the hardware, or about computing. With a $15 billion media business, Amazon is a media giant and its goal isn't to sell hardware, but to sell the media that will run on its devices. "It's not just books," Amazon CEO Bezos told Wired. "It's music, games, software, it's a bunch of different things."
The device may be the star now, but the focus is really on selling Amazon products. "The big draw of the Kindle Fire is easy access to content bought through Amazon," writes NPR's Linda Holmes in a blog on the Fire launch. "Whether books, music, or video. There are certainly other ways to get content onto the Fire, but Amazon's own offerings will have a lot to do with the device's appeal."
---
Follow Stories Like This
Get the Monitor stories you care about delivered to your inbox.