Bill O'Reilly writes a thriller-style book on the Lincoln assassination
(Read article summary)
Bill O'Reilly says he focused on Lincoln to show Americans "what true leadership is."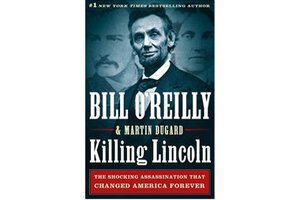 Before becoming nationally known as a conservative TV host on "The O'Reilly Factor," Bill O'Reilly taught high school students history, a subject he told USA Today he still loves.
Now, after writing several political books, O'Reilly returns to his interest in history with his new title, "Killing Lincoln: The Shocking Assassination that Changed America Forever." The book is written in the style of a thriller and focuses on the days leading up to Lincoln's assassination as well as the hunt afterward for John Wilkes Booth and the struggle to bring those who hatched the assassination plot to justice.
O'Reilly told NPR he wrote the book because he thinks more Americans need to be aware of Lincoln's skill as a leader.
"President Abraham Lincoln was our best leader for a variety of reasons," O'Reilly said. "I wanted to draw attention to him and write a book that was very dramatic and very exciting to read, but at the same time show Americans what true leadership is so that they can compare it to what we have today and perhaps maybe seek out better leaders."
O'Reilly, who co-authored the book with historical author Martin Dugard, said that Dugard carried out the research and he did the writing.
O'Reilly also said that he was also intrigued by the circumstances of the manhunt for Booth after Lincoln's assassination. Secretary of War Edwin Stanton chose Lafayette Baker, a New York detective whose loyalties have been called into question. O'Reilly wondered "why Stanton would go to some guy in New York when he had all his own people around him in D.C," he said.
---